Courage In South Africa
While the latest round of UN climate negotiations failed to demonstrate the kind of ambition and urgency we need to take on the climate crisis, youth and civil society showed an incredible amount of courage. We saw more kinds of risky, creative, powerful activism than we've seen at any prior UN summit. We're pretty sure that's worth celebrating, not forgetting.
On a real gut level, Durban's disappointment reminded us of an important lesson. If we're going to win on the UN stage, we've got to win over our home countries first. And to do that, we've got to bring more of this kind of courage back to all the places we call home.
So, please spread the word on Facebook & Twitter—and let's make this courage contagious.
Dec 2nd – A few days into the talks, 350.org partnered with Occupy COP17 to organize a "Rally for Survival." We provided a megaphone to delegates from the Small Island Nations who are fighting inside the negotiating halls of the UN for their very survival. Ambassador Jumeau of the Seychelles gave new urgency to the protestors when he led a human mic check,
"During COP 17, You are all small Islanders. So don't save us, save yourselves. We are one and the same."

Photo by Julian Koschorke
Dec 3rd – At the halfway point of the talks, thousands of South Africans joined by global youth, flooded the streets to call for climate justice. 350's banner could be seen far and and wide, as could signs like "Stop Climate Polluters" and "We are the 99%."

Photo by CYD-DJC
Dec 7th – A band of Canadian youth delegates turned their their back on the Environment Minister Peter Kent, a puppet for Big Oil, as he took the UN stage. As a result, they were some of the first youth evicted from the talks. Here's how James Hutt, one of the Canadian youth delegates, explained why they took action:
"Our so-called Environment Minister entered these talks by going on record that he would be defending the tar sands. I have yet to hear him say that he's here to defend my future."

Photo by Shadia Fayne Wood
Dec 8th – US college student Abigail Borah interrupted the lead US negotiator Todd Stern, and for a few moments didn't let him drag down the ambition of the talks. Here's how Abigail began her speech:
"I am speaking on behalf of the United States of America because my negotiators cannot. The obstructionist Congress has shackled justice and delayed ambition for far too long. I am scared for my future. 2020 is too late to wait. We need an urgent path to a fair ambitious and legally binding treaty."
After Abigail finished her speech, the entire plenary of nations ERUPTED in applause (except for, you know, the US). And as security escorted Abigail out, Democracy Now's Amy Goodman was on the spot with her microphone!
Dec 9th – A young woman from Canada, Anjali Appadurai, shook the UN Assembly with one of the most beautiful, impassioned speeches we've ever heard—and followed it with the first ever human "mic check" on the UN stage. Anjali spoke eloquently and powerfully for her generation. It's a voice we'll be doing all we can to back up in the months and years ahead.
When we posted Anjali's speech to Facebook, it quickly became the most popular update from the two week Durban summit—with over three thousand "Likes", "Shares", and comments. One veteran organizer commented, "I want to be like her when I grow up." Many commented that it brought them to tears. You can follow Anjali on Twitter here.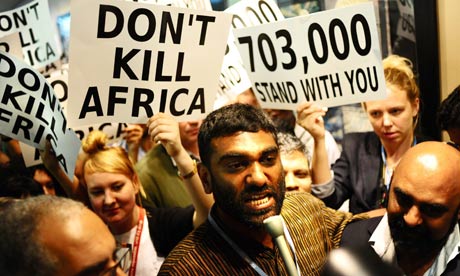 Photos (Clockwise) by: Shayne Robinson, Shadia Fayne Wood, WWF International, Sarah Marchildon, and Ben Powless
Dec 9th – In a culmination of two weeks of amazing people power—350 campaigners, hundreds of youth, and tons of allies pulled off something quite outrageous: we occupied the climate talks! It was about as beautiful, song-filled, chant-crazy, spirited, non-violent action as you could imagine. For two hours, we unleashed the people powered movement that we're building across the globe—and made sure your voices were heard.
---
There is a story of hope from Durban—it's the story of the youth and their allies who refused to remain silent, and who will stand up everyday and everywhere and show the bravery we saw in South Africa. That's the progress we're most proud of.
Can you take a moment to share these stories of courage with all of your friends? Just click the buttons below...