This newsletter is also available in French and Spanish.
---
It's Christine again, writing straight to you from South Africa, where the weather is shifting between rainy days and super scorching ones.
About two weeks ago, the UN climate talks (COP27) wrapped up in Egypt. If you followed the news or read our last special edition, you probably know this year's COP was labelled as "the Africa COP". And as someone born and raised in Africa, I must say I am holding right now two very different kinds of feelings: on the one hand, I'm disappointed that world leaders didn't seize the opportunity to show real commitment to activate Africa's huge potential for renewable energy. But on the other hand, I'm very proud and hopeful about the strength that the climate movement – especially African activists – have shown. This was likely the most challenging COP in recent years, with restrictions to protest and a ridiculously big presence from the fossil fuels industry. But we didn't shy away, we raised the voices of millions in the conference halls.
And while the UN conference was going on in Egypt, people were also fighting for climate action in other corners of the world – we highlighted some of them in this month's edition to remind us deeply that our movement never stops… because every tenth of a degree of heating matters.
---
Why don't you join our Fossil Free mailing list for all the latest stories on climate organizing from around the world. Stories that matter. Campaigns that inspire. All delivered directly to you every month.
---
In Case You Missed It
COP27, we will never be defeated
After several hours of delay, COP27 ended on November 20th with good and bad news. Good news first: a fund for compensating vulnerable countries for the losses and damages they are already suffering from the impacts of the climate crisis was created. But the final text failed to include a phase-out of all fossil fuels – which ultimately means that with more emissions, there will also be more losses and damages to tackle.
The last week of the conference was also full of inspiring moments, strong protests and beautiful actions. The most crucial thing this COP has probably done was to remind us that united we stand strong, and we stand bold, uniting for climate justice, for social justice and most importantly, for our basic human rights. Watch the video below to feel that energy:
Just Energy Transition and Repression at G20 Summit
While the UN Climate Talks were happening in Egypt, world leaders met for the G20 summit in Bali, Indonesia. The meeting ended with the reassuring reaffirmation of commitment from the G20 leaders to pursue efforts to limit global warming to 1.5ºC. And with the announcement of a Just Energy Transition Partnership (JETP) deal for Indonesia to help the country transition from coal. Last year at COP26, South Africa was the first to receive the same type of funding, and Vietnam is likely the next.
These major financial agreements are designed to support the phasing out of fossil fuels in emerging economies. And we will keep our eyes open to check how these deals will be implemented in practice, as we know that JETPs can be transformative only if designed and executed with the principles of justice and transparency at their core.
Though the G20 summit presented some positive outcomes, civil society was met with harassment and closure of events by the authorities. The people were deprived of their fundamental rights to freedom of speech and to assemble peacefully. These tactics to silence critical voices are an act against human rights.
Can we have the bill, please?
These are the words we never hear from the big oil companies.
Especially since they are the main climate culprits of our era. As they continue to run away from the bill for the climate chaos they inflict on our environment and our people, activists in Canada had an idea: 'hey, why not take some giant invoices to their front doors for what they owe?' And that's exactly what they did! This loud and bold message was taken by communities in a few cities with a clear message – to pay up.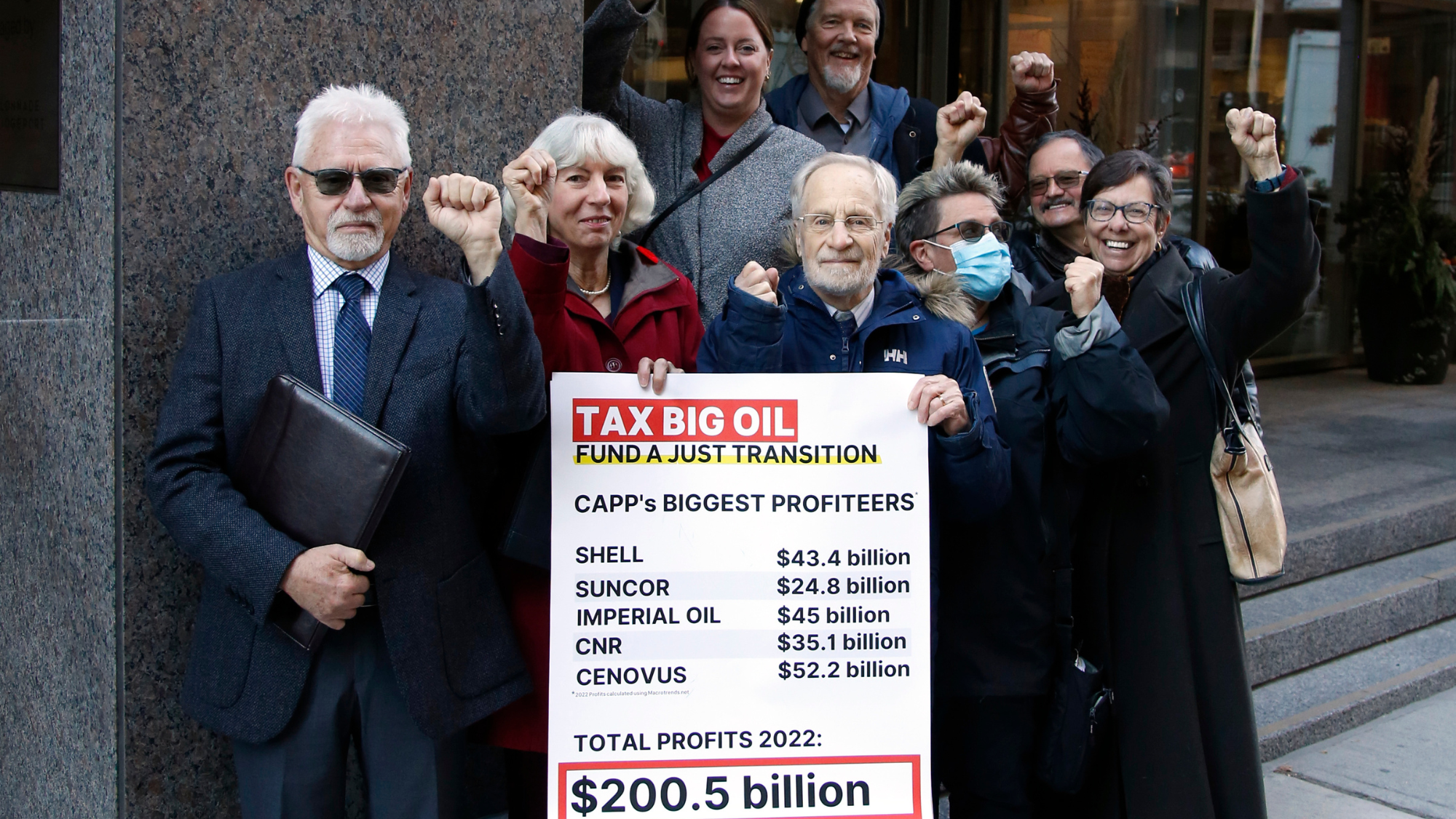 The actions were hosted in Ottawa, Montreal and St. John to put Big Oil on notice because this year alone, Canada's oil and gas industry tripled in profits. Instead of fulfilling its promise to invest in emissions reduction, Big Oil is funnelling its record profits to shareholders and delaying climate action. That's why we are asking the Canadian government to tax the excess profits of fossil fuel companies to pay for loss and damage, and fund a just transition to 100% clean energy that puts workers and communities first.
Big Oil won't pay up on their own. But Trudeau can make them!
Winter is coming!
This winter might not be as wondrous or warm for the people in the UK. Like most in the world, the country is devastated by rising energy prices and a high cost of living. And while oil and gas companies are getting richer, people are forced to choose between feeding their families or heating their homes.
Which is why the Warm This Winter campaign calls on the government to act and keep its citizens warm through affordable energy, while fostering a just transition away from fossil fuels. Investing in cheap and reliable wind and solar power, phasing out dirty and volatile fossil fuels, and providing economic support for improving energy efficiency at home can make a big difference in energy bills for the longer term.
The cold winter breeze may have already begun, and though some of us may be millions of miles away, we can still offer support by signing the petition for the government to do more. Through collective action and efforts, we can push the agenda and ensure clean and safe energy for all.
One to Watch
For the love of blood money!
Svitlana Romanko – a Ukrainian lawyer and climate activist, asked the CEO of one of the biggest climate criminals in the world the question that anyone who has been following the news about the connections between the war in Ukraine and the fossil fuels industry is wondering about – 'will you be using Russia's blood money to rebuild Ukraine?' To which he responded: 'I'll probably.'
Friend, can you believe that??
Well, we have the video link below so you can see this with your own eyes. Patrick Pouyanné, Total Energies' CEO, uttered these disappointing words amid the chaotic corridors of COP27. His response is filled with arrogance and greed – a great reminder of why we need to cut them down.
USE YOUR POWER
As mentioned in this newsletter, the world's biggest economies (G20) gathered in Bali earlier this month to discuss how to spend trillions of public money on just energy transition and recovery.
The summit might be over, but the need for movement leadership is not. Climate justice and real solutions for the climate crisis need to be at the core of the energy transition. Help the Indonesian people send that message loud and clear to the countries holding the money: the G20 must commit to a real and just energy transition now!
SKILL UP YOUR ACTIVISM
As you just read, word on the street is that COP27's cover text didn't include a fossil fuels phase-out, and a new JETP deal is finally out for Indonesia, with another one hopefully to follow soon. But wait, what do these terms really mean?
In our last special edition, we already brought you some terms from our "COP glossary", as we know sometimes we can't keep up with the lingo (check them here). Today, we selected a couple more for you:
---
Quote of the month
"Climate action means gender equality, climate action is a human right, climate justice means a just and equal future for all."
– Aquila Alwy – Climate and environmental activist, Rise Up Movement