2015 was the hottest year on record.
That's a big headline and kind of hard to process. Behind that headline are millions of stories and statistics. 350's new climate impacts team has spent much of the year following these stories — first-hand accounts of how people have faced huge new challenges. 2015 was a year that we started to clearly see the fingerprints of climate change on extreme weather events the world over. 2015 has been called a tipping point on climate change; the first year where global temperatures stayed at more than 1°C above preindustrial levels.
Before we dive into the difficult details, something we've definitely seen time and time again this year is that people have a huge ability to help each other. Whether it's a massive cyclone or horrible floods — we have seen people going above and beyond to help those around them. Here's one of our favorite examples from Saipan after Typhoon Soudelor.
What was 2015 like for you? How is 2016 looking? Share your own stories of how you've been impacted by climate change and extreme weather. Share on social media using #climateimpacts or email us at [email protected]
JUST HOW HOT WAS 2015?
Heatwave after Heatwave. There were many serious heatwaves that happened this year, but few as intense as in the Middle East in July and August. The Iranian city of Bandar Mahshahr documented a heat index of 73°C (164°F).  For many of the regions millions of refugees, the heat wave brought additional layers of stress.        
India also faced extreme heat waves that claimed over 2,300 lives. The seasonal monsoons came late and temperatures continued to climb for too long. This is the image that caught world attention: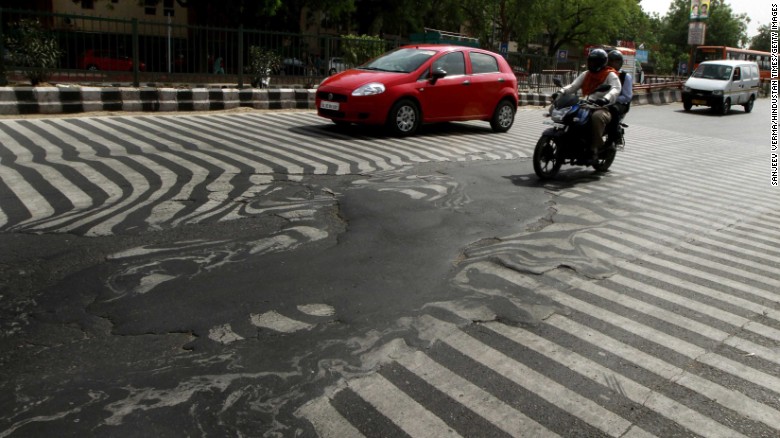 ---
Raging Forest Fires. Many parts of the world tackled extensive forest fires this year. In Canada, 6000 forest fires burned an area the size of Sicily. The U.S. had one of the most devastating forest fire seasons since 1960, with more than 11 million acres burned (that's the size of Denmark). Thousands of people were displaced from their homes.
---
  Too Many Super Storms. In the Northern Hemisphere, there were a record breaking number of strong cyclones/hurricanes/typhoons — 22 category 4 or 5 super storms in total. The old record had been 18. See the full list here.    For example, Hurricane Patricia intensified rapidly and became the strongest storm ever recorded in the Western Hemisphere.
This is how the strongest hurricane ever recorded sounds like. Images from Melaque, Jalisco @UniNoticias #Patricia pic.twitter.com/Zw4p29gqxT — Enrique Acevedo (@Enrique_Acevedo) October 24, 2015
---
El Niño Adding Intensity.  90-95% of the heat from climate change has gone into the world's oceans and that has helped make the 2015-2016 El Niño phenomenon to be worse than ever.  Michel Jarraud, Secretary-General of the World Meteorological Organization said "This El Niño is playing out in uncharted territory. Our planet has altered dramatically because of climate change."
This has already lead to intense droughts in Papua New Guinea and East Africa, as well as severe flooding around the world – in Paraguay, Bolivia and Chennai, India. Learn more about the impacts here. 
---
Just How Much Hotter? 2015 wasn't just hot by a bit, it was hot by a long margin. NASA reported –"Globally-averaged temperatures in 2015 shattered the previous mark set in 2014 by 0.23 degrees Fahrenheit (0.13 Celsius). Only once before, in 1998, has the new record been greater than the old record by this much."
---
Our window to act to prevent catastrophic climate change is small. We need to make 2016 a year of strong action – one that will tip the scales and help us really be on our way to a future free from fossil fuels. Sign up and join the Break Free actions planned for this May.