Update: We received word on Saturday that Shauna has been released and is safe. We are all tremendously relieved, and will continue to monitor the sitaution in the Maldives.
---
We just received this troubling message from one of our key supporters tracking the tenuous situation in the Maldives. In early February, President Mohamed Nasheed of the Maldives was ousted in a coup by Dr. Mohamed Waheed, his Vice President. Since then, Nasheed's pro-democracy supporters have been beaten, jailed and otherwise harassed by authorities, even as they demonstrated for democracy, free and fair elections.
Please help by signing this petition demanding Shauna's release from our friends at Avaaz >>
Dear friends at 350.org,
I am saddened to report to you that Aminath Shauna, who appears in The Island President as the Deputy Undersecretary for Climate Change policy in President Mohamed Nasheed's administration, was arrested today and taken to Dhoonidhoo prison during a violent crackdown by Maldives security forces against demonstrators who are calling for a return to democracy and early elections five months after the February coup d'etat that removed President Nasheed from office.
You may know Shauna as a leader of the 350.org movement in the Maldives who helped organize the Underwater Cabinet Meeting and the Global Day of Climate Action in the Maldives. Following the coup in February, Shauna became Youth Wing President of the Maldivian Democratic Party (MDP). Last month, she travelled with former President Mohamed Nasheed to the United States and participated in meetings with the U.S. Department of State, the U.S. Senate, the U.S. Congress, and the United Nations. On June 27, she was with President Nasheed at Tufts University in Boston when he received the James Lawson Award for Non-violent Achievement.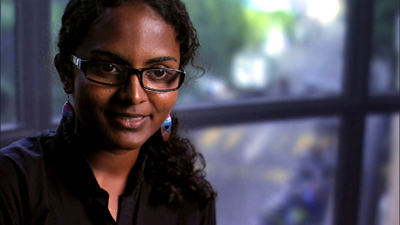 Due to the documented abuses of other detainees held in police custody since the coup d'etat on 7 February, we are deeply concerned for Shauna's safety. Please help us build support in calling on the government of the Republic of Maldives for her immediate release.
Here are links to news about this week's events in the Maldives:
http://india.blogs.nytimes.com/2012/07/13/violence-in-the-maldives-as-protests-continue/
http://online.wsj.com/article/SB10001424052702303919504577524692309747370.html?mod=googlenews_wsj
http://www.google.com/hostednews/afp/article/ALeqM5hM4gNwcozipcSnHnnk1l4oy45lhA?docId=CNG.2d576ed3249c44fba92d96bd086b49b1.c1