We've got big plans for the year ahead, so if you can pitch in to support the growth of a global climate movement, the team at 350.org will make good use of it. 
Click here to make a donation.


---
We think a lot about scale at 350.org, and know that we need a global grassroots groundswell to rise to this planetary crisis. So we organized "Global Power Shift", an unprecedented convergence that brought together more than 600 people from 135 countries to Istanbul learn, train, and spark a wave of climate action around the world. After leaving Turkey, these leaders went back to their own countries to organize "National Power Shifts" to catalyze powerful movements in their home countries: from Vietnam to India, Ukraine to Argentina.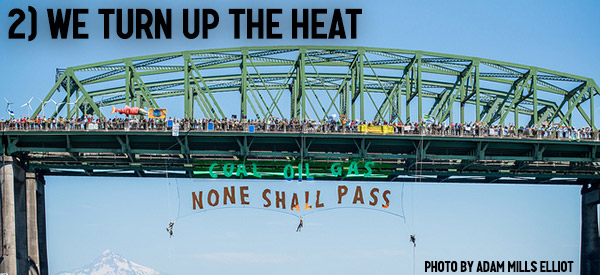 Over the summer, we worked with partners across the USA to coordinate a series of bold direct actions. We called it "Summer Heat", and from coast to coast, we joined with local activists to confront the fossil fuel industry and stand up for our future. As we said then: "as temperatures rise, so do we." Right now, as summer comes to Australia, we are making plans and turning up the heat there as well.
In February, we joined with our allies and converged in Washington, DC for "Forward on Climate": the largest climate rally in United States history. Over 40,000 people braved the frigid temperatures to tell President Obama to reject the Keystone Pipeline and become a climate leader.
This year, we launched the "Do the Maths" movie to spread the new arithmetic of climate change. There have been thousands of local screenings around the globe, and hundreds of thousands of additional views online — getting a crucial climate message to people outside of the proverbial choir. We also organized successful "Do The Maths" tours across Australia, New Zealand, and Europe.
Across the world, we are challenging narratives that keep us on the course of climate inaction and disaster. On the Pacific Islands, people are fighting the frame that paints them as climate victims. Activists in the region are rejecting that sea level rise will mean the loss of their islands and cultures, and that nothing can be done about it. Through cultural expression they are reclaiming their narrative and their destiny. They are not victims. They are proud warriors facing the climate crisis head on.
When we joined with partners to launch the "Fossil Free" campaign to divest from fossil fuel companies, we directly targeted the two things that corporate polluters care about most: their reputation and their money. In barely a year, that campaign has spread like wildfire — from campuses to churches to communities. A new study out of Oxford University has found "The outcome of the stigmatisation process, which the fossil fuel divestment campaign has now triggered, poses the most far-reaching threat to fossil fuel companies." Fossil Free has taken off in USA, Canada, Australia, New Zealand, and across Europe.
At 350, we love "days of action" — movement moments when people everywhere come together in their communities for a local event. There are few things as powerful as people taking action together while transcending boundaries of geography, language, and class. In April, we joined together to "Do the Maths" with Bill McKibben in thousands of living rooms and theaters around the world. In September, we united at hundreds of events to "Draw the Line" on the Keystone XL pipeline. And in November, we solemnly gathered for vigils around the world to tell the Philippines that "#WeStandWithYou".
When Typhoon Haiyan ravaged the Philippines, our team sprung into action: we raised money for direct relief efforts, supported our local team in the Philippines to supply aid to those in need, and helped coordinate vigils to stand in solidarity with the people hit hardest by the storm. And a year after Hurricane Sandy hit the USA, we joined with community, labor, social and environmental justice groups to call for a fair recovery and clean energy for everyone.
We are taking on the world's biggest challenge, and doing it all over the planet. Our staff has grown to keep up with this growing movement, but we are lean and frugal, and strive to make every dollar count.
Whether we are fighting a single dirty pipeline or campaigning for global solutions, we know that this fight takes stamina, perseverance, and hope. We are in it to win it — and are so grateful to stand together with all of you in the fight of our lives.