Houston Residents Worry about Burden of Keystone XL Pipeline on Local Neighborhood
The post below is from our friend Cherri Foytlin over at the Bridge the Gulf Project.
---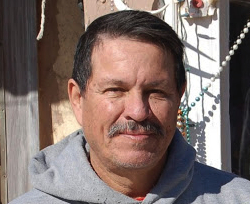 "We are part of America. We are a major city in America, but we do not need to be the sacrifice zone for the nation," states Houston resident Juan Parras (pictured).
Parras joins a growing contingent of Houston residents concerned about the overburdening of minority and low-income communities in the area with the ill effects of energy production.
"There has been a lot of studies conducted, and one of them in particular is a study conducted on leukemia cases within a 2 mile radius of the Houston ship channel. The chances of contracting leukemia here are 56 percent, and of course, this is related to the petrochemical industry. We also have a lot of asthma, tumors – all of the things people do not want in their communities can be found here." he explains.
As a founder of the group Texas Environmental Justice Advocacy Services (TEJAS), Parras is no stranger in working to protect Houston neighborhoods from the hazards of air and water pollution. "[TEJAS] started doing environmental justice work here in Houston in the year 2004. There is a lot to be done here, because we have the highest concentration of refineries and petrochemical plants in the nation," he says.
VIDEO: Community advocate Juan Parras of Texas Environmental Justice Advocacy Services describes the area of Manchester – an environmental justice community in Houston, Texas. Like so many communities across the nation, Manchester disproportionately bears the burden of health problems due to industrial pollution in the area. According to Parras, the Valero plant in Manchester will most likely be a final destination for tar sands oil traveling through the Keystone XL Pipeline. Watch more: ‪Houston Residents Worry About Tar Sands Oil Pollution‬
The work is challenging, Parras explains, due to the societal acceptance of the adverse affects as a necessary risk for economic stability. "In Houston, it's different than the rest of the country. We are considered the gas and oil capital of the world, and in my opinion we have been brainwashed to accept the risk – that this is a risk we must accept. It's tragic. [They] talk about the jobs and the economy, and forget all the health related issues."
According to Parras, the southern leg of the Keystone Pipeline project, is no different. "We were excited when President Obama said that's it's not going to happen, that [they] are going to have to do more environmental impact statements, but it is my understanding that it is coming."
"The Keystone people say it's going to create a lot jobs, but they won't be sustainable jobs.. once you install the pipeline that's it, you don't have a job anymore. It's all temporary. And then what we end up with is an exhaust pipeline here in Houston and Port Arthur – that's what I call it, because we are going to end up with all the nasty stuff."
Parras does not believe that the impact to the community is worth the risk, "We must remember that this is tar sands oil – it has a lot of sand, it has lead, nickel and mercury. The processes that it takes to extract the oil from these things, requires a lot more heating, a lot more water. So we are going to be using five barrels of water for every gallon of oil that we get."
He worries for the community of Manchester, home of the Valero plant which will most likely receive the oil for refining. "We are predicting that it is coming to Valero, in the Manchester community, because it is already sort of equipped and ready to process that oil."
Manchester, a mainly Latino community, is no stranger to pollution. According to an article published in 2005 by the Houston Chronicle, air monitoring in the area confirmed high concentrations of 1.3-butadiene, a known human carcinogen.
Parras says that the additional toxic air emissions to this already struggling community is unacceptable,"There is a study that says for the Houston ship Channel area, if the pipeline does come down, it will increase the pollution in our communities 35 percent. That's a lot of unnecessary pollution."
He adds, "We are being asked to sacrifice our lives so that others can benefit from the products that come and leave Houston. It is just not right. Everyone has a right to clean air and water. We are entitled to that."
Cherri Foytlin is a journalist, mother of six and wife of an oil worker, who lives in south Louisiana. She is the author of "Spill It! The Truth About the Deep Water Oil Rig Explosion," and regularly contributes to www.BridgeTheGulfProject.org, The Huffington Post, and several local newspapers. In the Spring of 2011 she walked to Washington D.C. from New Orleans (1,243 miles) to call for action to stop the BP Drilling Disaster, and has been a constant voice speaking out for the health and ecosystem of Gulf Coast communities, in countless forms of media. As founder of "28 Stones," – a Gulf based media project which focuses on national movement building through art, photography, video and written word – she is working to, "help build the foundation for a cooperative and unified amplification of voices and needs, particularly of Gulf Coast communities, across the nation and globe."